Your new favorite time tracking tool!
LogMyHours.com is an easy to use time tracking, invoicing, expense and project management tool that allows you to easily manage how you're spending your time with your clients. Create detailed reports and invoices effortlessly, allowing you to spend more time on your actual business.
Time Tracking & Invoicing
Create your timesheets and import them to your invoice with a click of a button. Use our recurring invoice feature to have your invoices automatically created every month and emailed to your clients.
Superb Tech Support
Need help? Have a feature request? Reach out to our support team via email or live chat.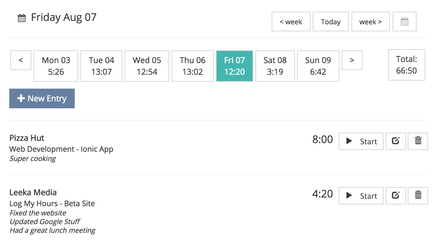 Detailed Dashboard
Beautifully created dashboard allows you to view all of your information at a glance.
Customizable Projects
Set budgets with alerts, enter in costs and assign team members.
Flexible Report Exporting
Build basic or detailed reports and export them to PDF, CSV & XLS formats. Create schedules to automate this process and have your reports automatically emailed to clients or team members.
Enterprise



$25 / Month / User




With Annual Billing (10% Off)

Pro



$5 / Month / User




With Annual Billing (10% Off)

Solo

Free
Projects
Unlimited
Unlimited
2
Clients
Unlimited
Unlimited
4
Project Tasks
Unlimited
Unlimited
Unlimited
Invoicing
Unlimited
Unlimited
Unlimited
Expenses
Unlimited
Unlimited
Unlimited
Branding
-
-
Limited
Timesheet Approval & Locking
-
-
Timesheet Reminders & Audits

(Coming Soon)

-
-
Schedule Reporting

(Coming Soon)

-
-
Add/Edit Employee Timesheets
-
-
Team Management
-
-
Multiple Project Alerts

(Coming Soon)

-
-
Project Templates
-
Live Chat Support
-
Client Budgets
-
Custom Invoice Settings
-
Online Invoice Payments
-
Recurring Invoices
-
Invoice Retainers
-
Duplicate Project
Duplicate Invoice
Billable Rates
Time Rounding
Exporting

(PDF, CSV, Excel)

Project Budgets & Alerts
Company Logo
Reporting Exports
iOS & Android App