Welcome to 2018!  To help you make the best of the new year, we want to make sure that you have the right tools to stay focused and on task. We've put together a list of 10 essential time management tools to keep you on track.
Time Tracking Tools
One of the best ways for time management naturally is using a time tracking tool. There are many different ways of keeping track of your time, here we've listed two of our favorites.
1. Log My Hours
LogMyHours.com is a time tracking, invoicing, expenses and project management tool created for both freelancers and teams of all sizes.
With Log My Hours, you can create projects and tasks which allow you to visually see how you and your team are spending their time. This ensures that everyone is working efficiently. You can create fully customizable reports which you can export to PDF, CSV and Excel.
The invoicing wizard allows you to easily import all of your billable hours and expenses to create a professional looking invoice in a matter of seconds. You can email your invoice to your client and accept online payments all through the platform.
There is also a mobile app for both iOS and Android, which allows you to track your time on the go. Log My Hours is also planning on adding support for QuickBooks integrations in the very near future. This will allow you to sync your invoices from Log My Hours over to QuickBooks!
2. Rescue Time
Rescue Time is another great tool to help you manage your time. Rescue Time monitors which programs you are using on your computer and gives you a break down of how productive you have been. Were you actually on YouTube for only 15 minutes, or a couple hours?
Rescue Time also has a "Get Focused" option which can block out those distracting websites. Log My Hours actually has integration support for Rescue Time. When you enter a timesheet time entry, it will also show how productive you were during that time period.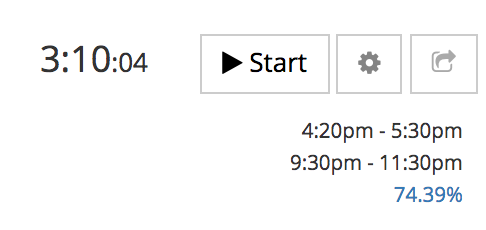 Team Communication Tools
Communication is probably one of the most important aspects of a team. Even more so now with the number of freelancers and remote workers in today's workplace. Here are our 2 favorite tools for team communication.
3. Slack
Slack has gained a huge amount of popularity which is great for both group and one on one text and video chats. With a large user base, it's easy to find people that are familiar with the Slack environment.
Each team has their own workspace @ yourteam.slack.com and many interest groups even have their own Slack community which you can apply to join. Ionic Slack has a group to help support developers using the Ionic Framework,  YVR Developers also has a group for developers in the Vancouver BC area. This Medium article has a massive list of 1000 different communities you can join.
You can create multiple channels to help organize your Slack community. You may have a channel for #marketing, #productsupport, #announcements, #jira, etc.
Slack is an amazing app to help keep everyone on your team in the loop.
4. Hipchat
HipChat is another great business communication tool. It has all of the expected features including private chat, group chat, video chat and also offers screen sharing for teams. You can even host a fully functional copy of Hipchat Data Center on your own hardware.
Meetings & Video Chat Tools
Here are our favorite meeting and video chat tools that'll hopefully keep your meetings on schedule.
5. Skype
Skype which was acquired by Microsoft in 2011, specializes video and voice chat between different devices. Skype has been around since 2003, so large amount of users are already familiar with the platform. Majority of the platform is free to use and allows for screen sharing.
6. Google Hangouts
Google Hangouts is probably one of the most popular video meeting software.
There is almost no learning curve to using Google Hangouts, it just works so well with Gmail and Google Calendar. You can easily schedule a time to meet and chat with a voice or video call. The app is free to use, and available across multiple platforms.
Project Management Tools
Now that you are tracking your time and have had a look at different communication tools, it would be great to find something to help with project management. Project management tools are a great way to improve you and your team's overall productivity.
7. Jira
Jira by Atlassian is one of the best ways for a team to stay informed and organized. Jira allows you to create projects and tasks and displaying them on the dashboard.
Jira allows you to create tickets and assign them to members on your team, or to yourself. You can set due dates, add images and comments and even view the complete history of all the changes to the ticket. There's also support for BitBucket which allows developers to sync code commits to the ticket. You can also add Slack integrations, Jira can post the status of a ticket when it changes right to your Slack channel.
8. Asana
Asana is a clear and simple project management tool designed around team collaboration. Its main focus is on allowing users to manage projects and tasks online without the use of email.  Asana also allows you to organize your tasks by their status, their due dates or by a project. This gives you easily see how the progress is coming along.
Todo & File Storage
Our last section, we wanted to touch on our favorite to do and file sharing tools.
9. Freedcamp
Freedcamp is a straightforward to use to do list app that anyone can use. You can create lists for anything from basic errands to tracking website bugs.
Once you get started, you can create tasks and subtasks, set due dates, and assign them to users. There's a Kanban board which is a more modern way to manage tasks and allows you to drag your tasks into completion columns. The Gantt Chart feature gives you bird's eye view of your tasks, allowing you to quickly adjust your plans.
Freedcamp offers all of their core features for free but is definitely worth upgrading for all of the premium features.
10. Dropbox
Dropbox is great for file sharing and cloud storage. Incredible easy to use with over 500 million users already using it.
Dropbox offers both a basic and a business account, with the business account more focused on collaborating with your team. Drop your files into your Dropbox folder, and they are synced to the cloud in seconds. You can create folders and then share them with other Dropbox users. This is a great way to exchange files with a client or co-worker.
Closing Thoughts
Hopefully, with these time and task management tools, you and your team will be able to stay organized and be more productive than in 2017. Let's make 2018 the most productive year ever!
There are countless amounts of great productivity tools out there, let me know of any other tools you might be using below in the comments.